Golf My Way by Jack Nicklaus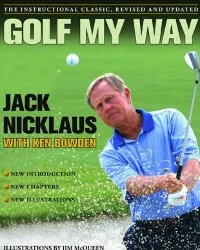 Golf My Way by Jack Nicklaus is a golf instructional classic and a unique blend of theory and practice. Although it was published nearly four decades ago, it remains a must-read for both professionals and recreational golfers. In Golf My Way, Nicklaus reveals his approach to the game as well as a thorough explanation of how he sees and plays golf. Also included is an advice on elements which are not directly related to ball striking but play an important role in the play.
About the Author
According to many, Jack Nicklaus (born 1940) is one of the greatest, if not the greatest golf player of all times. During his professional career which lasted from 1961 to 2005 (from 1990, he played the Odyssey putters Champions Tour), he won a record 18 majors: 6 Masters Tournaments, 4 US Opens, 3 Open Championships and 5 PGA Championship. With 73 PGA Tour wins, he is ranked 3rd on the list of golfers with most PGA Tour wins, lagging behind only Sam Snead and Tiger Woods. Interestingly, he initially planned to play amateur golf only.
In 1990 Nicklaus joined the Senior PGA Tour (today's Champions Tour) and went on winning 10 tournaments by 1996 of which 8 were major championships. He continued to play Champions Tour until 2005 when he retired from competitive golf but he didn't withdraw from the sport of golf. He runs his own PGA Tour tournament – the Memorial Tournament but he is also active in a variety of off-course activities including course design, philanthropy and of course, book writing. Besides Golf My Way, Nicklaus has also written several other instructional books (albeit lesser known than Golf My Way), and autobiography, a book on golf design and several articles for magazines Golf Digest and Golf Magazine.
Golf My Way Details
Golf My Way was first published in 1974, in the same year when Nicklaus was inducted into the World Golf Hall of Fame. As an instructional golf book, it includes a lot of illustrations which explain what he is trying to say. The book has been sold in over 2 million copies and is in print ever since the 1970s. Newer versions, however, include a new introduction and new illustrations as well as new chapters which reflect changes in Nicklaus's views and golf techniques. Of course, also included is Nicklaus's advice on mental elements of the game and an overview of the differences between professional golf today and that played in the early 1960s when Nicklaus joined the PGA Tour.
First edition of Golf My Way is relatively rare but it is possible to find them at specialised book stores at affordable prices. Obviously, a signature increases the price but since Nicklaus's autographs are quite common, an autographed book will cost you about £100 extra.