My Side by David Beckham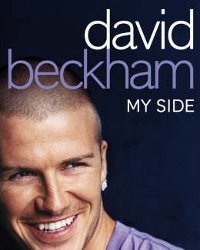 My Side by David Beckham is an autobiographic book that was written by the famous English footballer. In his book, Beckham tells the story of his life from early childhood through his professional football career as well as his personal life including his marriage with ex-Spice Girl Victoria Adams. He tells a fascinating story and reveals a lot of details that were previously unknown to the public.
About the Author
David Beckham (born 1975) who has retired recently is probably the most famous English football player in history. He started his professional career at Manchester United for which he debuted in 1992, aged only 17. He played for the Manchester until 1999 and meanwhile helped his club win 6 Premier League titles, 2 FA Cups and the UEFA Champions League. From 1999 to 2003, he played for Real Madrid. In 2007, Beckham and his family moved to the United States in order for him to play for the Los Angeles Galaxy. He signed a five-year contract with the latter but he spent the 2009 and 2010 seasons "on-loan" in Italy, playing for AC Milan. As one of England's best football player, Beckham of course also played for the national team for which he debuted in 1996. In total, he played 115 times for England national team.
My Side Details
Beckham published his autobiographic book My Side in 2003 but there are later editions as well. All editions more or less tell the same story but the newer ones obviously also include details from later life. As mentioned earlier, Beckham's My Side tells the story of the footballer's life starting with his childhood in East End London to his rise as one of the most talented football players of his generation and of course all about his professional career. Besides the most outstanding moments of his career, he also openly speaks about less glorious events. He of course also talks about his relationship with his wife Victoria and how they met as well as how the attention of the world media affects his family.
The first edition of David Beckham's My Side was sold out but it is still possible to find first editions at specialised stores and online auctions. Signed editions, especially the first one are a little bit more difficult to find. And since all memorabilia signed by Beckham is highly desirable across the globe, be prepared to pay several hundred pounds for a signed first edition of My Side.