Power Golf by Ben Hogan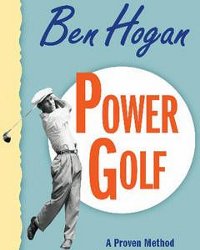 Power Golf by Ben Hogan (1912-1997) is widely considered as one of the best golf instructional books in history. In it, one of the greatest golfers of all times shares his "secrets" and offers advice on how to improve your play in every phase including finding the right grip, choosing the right clubs, how a balanced stance improves the game and how to achieve it, how to achieve a greater accuracy with the iron, tips on improving bunker, downhill and uphill shots, how to play in rain and wind, and much, much more. The book which includes detailed illustrations is written for both beginner and advanced golfers, and according to most readers, Hogan's instructions helped them more than they expected.
About the Author
As mentioned earlier, Ben Hogan is one of the greatest golf players in history. From 1930 when he turned professional to 1971 when he retired, he won as many as 64 PGA Tour events which ranks him 4th on the list of golfers with most PGA Tour wins. Hogan is also 4th in the number of won major championships (9 majors tie him with Gary Player) and one of only five golfers to date to win all four majors – the Masters Tournament, the US Open, the PGA Championship and the British Open. Until 2000 when Tiger Woods won three majors, Hogan was the only golfer to win three majors in one year. The 1953 season in which he won as many as 5 out of 6 tournaments which he competed and of which 3 were majors thus came to be called the Hogan Slam season.
Besides for his outstanding golf career, Hogan is also famous for his outstanding striking ability and strong advocacy of practice. According to Hogan, every golfer can elevate their play to a whole nother level with practice, persistence and some guidance. And in his Power Golf, he aims to achieve just that – offer guidance to help the readers improve their play.
Power Golf Details
Power Golf was first published in 1948, in the year when Hogan won his first US Open and the PGA Championship, became the PGA Tour leading money winner, won the Vardon Trophy and was named the PGA Player of the Year. The book has been in print ever since but unfortunately, the original photographies have mostly been replaced by drawings.
The very first edition which was published by A.S. Barnes and Company in 1948 isn't easy to find but there are quite many later editions that include original photographs. Depending on the book's condition and edition, an autographed version can cost you an extra £100 to £500 as much as Hogan's signature is generally valued.