The Autobiography by Gareth Edwards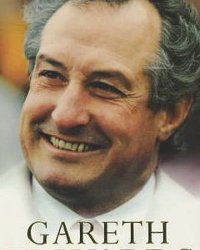 The Autobiography by Gareth Edwards tells the story of one of the greatest rugby players of all times. The book is of course focused on Edwards' professional career but he also dedicates many pages to major turning points in his life as well as major rugby events, anecdotes and other interesting things from his professional and personal life. But besides shedding more light on the life he lived while he was on the height of his career he also reveals a lot about what it takes to excel both in rugby and life.
About the Author
Gareth Edwards (born in 1947) is a living rugby legend. Without a doubt the greatest Welsh rugby player and according to many, the greatest rugby player of all times, the former Welsh rugby union player (he played scrum-half) had an impressive career and achieved outstanding results. He was one of the leading players of the Welsh national team that dominated European rugby in the 1960s and 1970s and one of only a few Welsh players to win 3 Grand Slams. Between 1967 and 1978, he won 53 caps for Wales in succession, 20 tries on international matches and went on three tours with the British Lions. In 1997, he was also inducted into the International Rugby Hall of Fame (as one of the first 15 players).
At the time he wrote his autobiography, Edwards was still a professional and as a result, he wasn't allowed to be involved in rugby union or coaching. After ending his professional rugby career in 1978, he got involved with the BBC, working as a team captain in the show A Question of Sport. He left the show four years later but he remained closely connected with the BBC. He currently commentates rugby on the British public service broadcasting statutory corporation but he also works for the S4C, commentating in his native language.
The Autobiography Details
Edwards published The Autobiography in 1978 but several editions were published since then. Newer editions have been slightly updated and include a comparison between the rugby of his time and the modern sport.
It is still possible to find the first edition of Gareth Edwards' The Autobiography in specialised stores and online auctions with some versions being signed by the legendary rugby player. The signed versions are of course slightly more expensive but considering that they have been signed personally by one of the greatest, if not the greatest rugby player in history, they are most certainly worth a few pounds extra investment.